Data


Colors


Pseudomorphosis


Cristallography


Dissolution


Inclusions


Associations


Microphotography


Sites


Art & décoration - 1


Art and decoration-2


Old plates


Modern plates


Stamps


Gems


Books about Fluorite


Litterature(complement)


Fluorite articles


Other informations












DECORATION & ART OBJECTS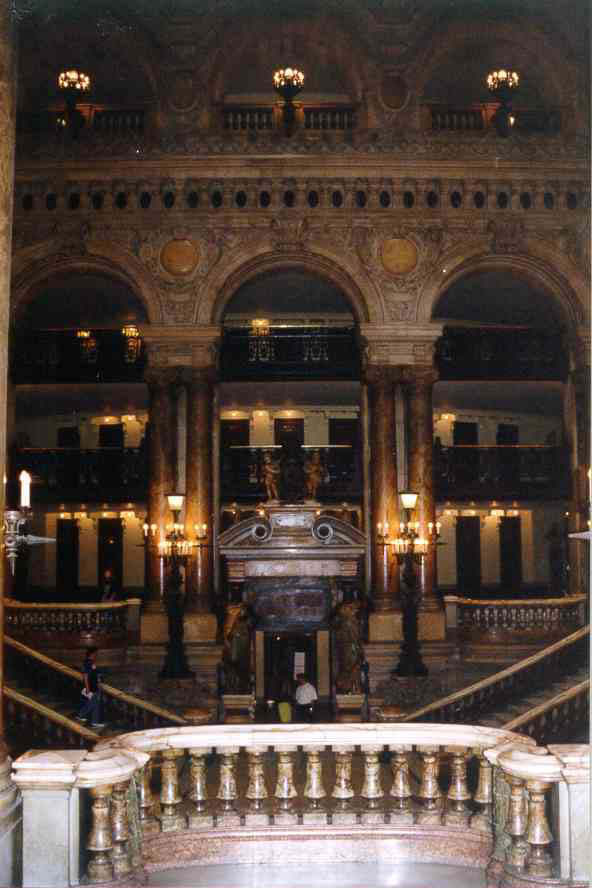 Grand escalier de l'Opera Garnier.
Les colonnes sont réalisées en fluorite qui a été extraite à Voltennes.

PAIR OF SMALL OVOID VASES MADE OF FLUORITE - FOREIGN WORK

Description: PAIR OF SMALL FLUORITE VASES OVOID
BEAUTIFUL MOUNTINGS A HANDLES AJOUREES A BUST OF WOMAN
PAUNCH EMBELLISHED WITH MASK OF PUTTI AND ROSETTES
BASE ROUND WITH CANELURES
ITALY, FIRST PART OF THE 17TH CENTURY
Dimensions (cm): High. 14 - Larg. 6,5
Century: 17 2nd
Time: FOREIGN WORK
Go back to exposure: 19/12/2002
Place of exposure: DROUOT ROOM 1
Go back to sale: 20/12/2002
Place of sale: DROUOT ROOM 1
Auctioneer: PIASA
Result: 85 274 FF or 13 000 Euros

Pendulum with revolving circles in the shape of covered vase,
decorated gilded bronzes.


The vase is cut in fluorite color honey and amethyst
resting on a column truncated out of gilded bronze and terrace
in fluorite encrusted with gilded bronzes of style Louis XVI.
The hour is indicated by a snake coiled on the lid.
Complete mechanics being able to function:
ringing, adjustment advance-delay.
Time second part of XIXe.
Small lacks and accident with mineral.
Height: 42 cm
Unknown price.

PH. PALLOC - TH. COURCHET - R. FEDE
S. JAPHET & CH JAPHET
ASSOCIATED APPRAISERS
Saleroom 15 Street Dante 06000 Nice





Vases en fluorine et bronze Louis XVI


GIERHARDS Antics and Fine Arts

Benrather Straße 8
40213 Düsseldorf
Germany
Phone: +49 - (0)211 - 32 04 64
Fax: +49 - (0)211 - 32 25 46
E-Mail: info@gierhards.com




Vases avec 3 branches,

France, 1860


Price
$5,500.00

Dimensions : enviorn 70 cm de hauteur.



Photo et objets sont propriétés de
The famous"Blue-John" :
The few photos you can see here come from several websites. One of them is, of course, those of the society whose belong the Blue-John mine.
Unfortunatly, we remark we never had an answer to our numerous mails to ask for photos, or for commercial relations...
Wonderful workmade of "Blue-John" fluorite.
photos Barry Marsh